Masaki Fujihata's project
Sep. 2013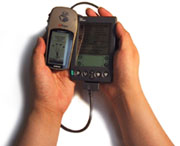 "Field-Works" is a series of projects which reconstrust collective memories into cyberspace as a video archive indexed with position data captured by GPS and video image. The project started from 1992.

--------------------------
2012: "Voices of Aliveness"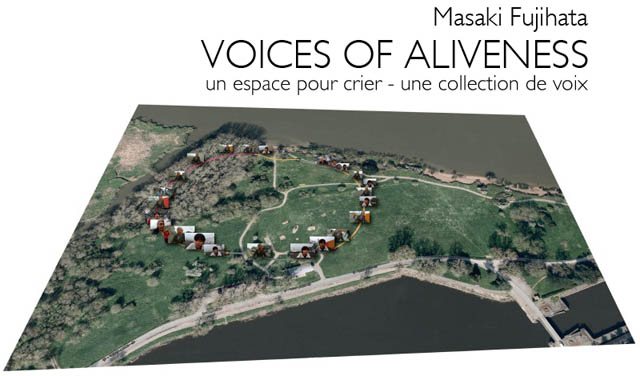 "Voices of Aliveness" : A place for shouting: A collection of voices/shouts in Le Pellerin, Nantes, France.
music and sound direction: Yasuaki Shimizu. yasuaki-shimizu.
technical support: Takeshi Kawashima. Kawashima-lab.
produced by ESBA(l'ecole superieure des beaux-arts de Nantes Metropole), France.


--------------------------
2009: "Simultaneous Echoes"



"Simultaneous Echoes" is a project of "Field-works." It is a music piece a collaboration with music composer, Frank Lyons who lives in Northern Ireland.
The piece premiere on 25th of August 2009 along ISEA festival at Londonderry, UK. See the document video and images "HERE."
Text written by Yvonne Spielmann is here as a pdf.
Also shown in "Landshaft 2.0" at Edith Russ Haus in Oldenburg, Germany from 29th of August until 15th of Nov. 2009.
It will be shown in "Mediation" biennale in Poznan, Porland in Sep. 2010.

--------------------------
2005: "Landing Home in Geneva"
Masaki interviewed 7 professional interpreters who was born in outside Geneva and after moved in Geneva by some reason. The left their home land, but keep mother tangue, and they landing in Geneva? All interviews started at their home or apartiment and end a place where they could remind themselves comfortable or wish to invite Masaki. Contents focuses the place and border between country and language and video interviews are ordered according to the geographical positions which collected by GPS.
"Landing Home in Geneva 2005" exhibited at Centre pour L'image Contemporarie, Saint Gervais Geneva, Swiss 7th of Sep. until 16th of Oct.2005.
This is the first time to use Panoramic lens for video recording and is projecting a cylinder shape in the cyberspace. Of course the cylinder shakes, moves, travels along the movement of the camera man and he can not escape from being recorded. It arises several philosophical problems along eye gaze, vernishing point, and projection.

--------------------------
2005: "Talking Tree"
Project started with one of the oldest lady who lives in Graz. And then she gave us the next link as her friends contact for the second branch of the interview, and then we have more connections and connections, interviews expanded like this, and the shape of the connecitons grows like a tree. It was commissioned by KUNSTHAUS, Graz and exhibited there from 30th of Sep. in 2005.

--------------------------
2003-2005: "Mersea Circle"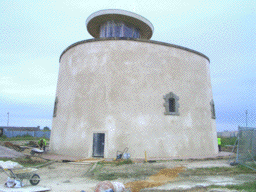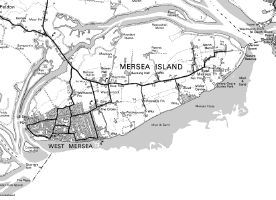 Collective memory project with local living people in Mersea island located near Colchester, Essex in England. Visitors are invited to walk on the edge of island with video camera and GPS for recording the position and interests which will be reconstruct cyber-archive. Data recording event had happen on 16th and 17th of August in 2003. The final result had been shown at firstsite gallery in Colchester, Essex in Nov. The piece is finally parmanently installed in the Martello Tower, media center in Jaywick, Essex, UK.
Project commisioned under "Coast Digital" East Essex Council. Realized with Future Physcal, Shinkansen, and Firstsite.

--------------------------
2002: "Lake_Shinji"
Sharing collective memory by using the lake_Shinji as a drawing pad. Over 50 people which include local fisher men, bicycler, yacht men and so on, were gatherd to collect their persnal positions and video data on the days 27th, 28th of July, 2002. Project realised with Shimane Art Museum in Matsue. Part of the images were collected in realtime at the gallery in the museum. Final images can be seen at here.

--------------------------
2002: "Alsace"
Collections of interviews with local inhabitants and passengers around the border between France and Germany. Whole interviews are located in the place where the interview was done and replayed as it was done according to the postion and movement of the camera. Project was realised in August and September in 2002 under the support of ZKM | Center of Art and Media in Karlsruhe, Germany. Shown at ZKM "Future-Cinema, "KIASMA, Finland, and at NTT/ICC in Dec. 2003 in Tokyo.
Artist page "Field-Works@Alsace" at ZKM page.
Another document page at MedienKunstNets.

--------------------------
2001: "Hayama"
First experiment using 3DM sensor which captures orientation data of the camera which can record where the camera was towarding. "Field-Work@Hayama." Exhibited in Yokohama Triennale 2001, Yokohama, Japan, Ars Electronica Festival, Linz, Austria, and Transmediale, Berlin, Germany.

--------------------------
2000: "Tsumari"
Project realised within the "Tsumari-Triennale 2000", a workshop with local junior high school students. See images of "Experiencing Issun-Boushi".




--------------------------
1992-94: "Impressing Velocity [Mt.Fuji]"
All starts from this project. See a project document page at InterCommunication Center".
High resolution computer rendered images in 1994 at HERE.

--------------------------
--------------------------
Masaki Fujihata's Home page:fujihata.jp.